The ÖH-elections take place every two years and are democratic elections in which students can vote their representation on three levels: the federal representation (ÖH), the university representation (UV) and the study representation (StV).
The ÖH elections will take place from May 18th to May 20th in the former Postsparkasse in the meeting room 17, ground floor EG via the main entrance at Georg-Coch-Platz.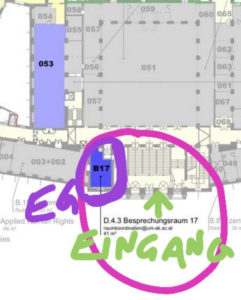 Election times
Tuesday 18 May 202, 9am to 3pm
Wednesday 19 May 2021, 10am to 5pm
Thursday 20 May 2021, 9am to 3pm
Please bring your student ID and wear an FFP2 mask. After voting, you will be treated with a delicious vegan brownie from Fett & Zucker. What are you waiting for, come and vote :D.
Here you can find the candidates of your study program https://hufak.net/wp-content/uploads/2021/05/Verlautbarung_zugelassene-Wahlvorschlaege_Kandidaturen-SV_27-04-2021.pdf
Formal matters during ÖH elections
The prohibited zone includes the above mentioned polling station and the area around the polling station within a radius of 15 meters.
The prohibited zone is valid during the respective election days. Within the prohibited zone, any kind of election advertising, in particular by addressing voters or by posting or distributing election advertising, is prohibited. Violations shall be punished by the district administrative authority with fines of at least EUR 100,– and at most EUR 300,–.
The nominated candidates can be found here!
The information about voting time and place can be found here!
Information regarding cavassing next to the polling station can be found here!